Crescent controversy on Fox News television and Fox News front page
!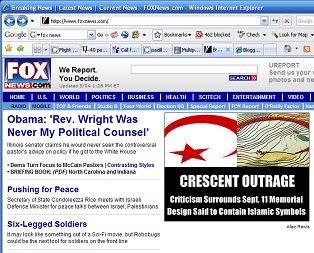 Check out the Fox News
front page
today, where "Crescent Outrage" alternates top billing with "
Six-Legged Soldiers!
" Finally, more than a handful of Americans will at least know that there is a controversy over the Flight 93 memorial.
They won't get much more than that from Fox's
text report
, which is pretty bare. There is no mention of the Mecca orientation of the giant crescent, no mention of the 44 inscribed translucent blocks on the flight path, no mention of the Islamic sundial, and no
fact checking
(the modern media disease). Still, this is big.
The text report DOES show the
side-by-side comparison
of the Crescent of Embrace and the Islamic crescent and star insignia. It also reports Tom Burnett's condemnation of the crescent design as an insult to his murdered son, and it mentions our
petition
.
UPDATE:
Red Lasso has the Fox News
video clip
(thanks to
Avid Editor
).
This is powerful stuff. Not only do they show the clear likeness between the original design and an Islamic crescent and star flag, but the image they show of the redesign shows pretty clearly how the giant crescent remains intact in the redesign: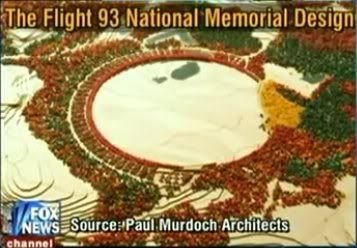 From the crescent and star likeness, they cut to Tom Burnett, asking what people would think if a memorial were laid out in the shape of a swastika. If viewers hadn't just seen the crescent and star likeness, that statement could be made to sound crazy, but Fox does right by Tom, giving viewers the information they need to see the reasonableness of the comparison. Many thanks to Fox for getting this right.
Fox has a lot more information at their disposal. They had a television crew at the Somerset County Courthouse yesterday where Colonel Harry Beam laid out a precise and devastating exposé of Islamic and terrorist memorializing design features, and they were sent extensive fact checking materials. None of this gets into their present reporting. If they put that material into an investigative feature, they can knock the crescent memorial out for good. Watch it to understand the threat to our homeland.
UPDATE II:
Avid Editor found another completely different Fox News segment on Red Lasso.
This one
is even better, mentioning the Mecca orientation of the giant crescent! To view this video at Alec's Error Theory or Cao's Blog. Thank you.
Hat tip:
Error Theory
and
Cao's Blog
.
To join our blogbursts, just send your blog's URL here. Thank you
.
This is an open trackback post. Feel free to put your best, funniest, or misc. work here. Share it with others. Not familiar with trackbacks? First, choose the article you want to promote. Copy/paste my permalink (URL) to your post. Then send a trackback to me. Don't have one? You can use
Wizbang Standalone Trackback Pinger
. Otherwise, leave a comment for me with the permalink for your post, the name of your blog, and a small excerpt, and I will add it to the list.
FLIGHT 93 BLOGROLL
.
Posts I've trackposted to at
Linkfest
and other sites:
The Yankee Sailor
:
Monday Open Post
,
Right Truth
:
The Saudis, when do we deal with them?
,
Big Dog's Weblog
:
Frank Rich of the NYT Should Look Left for Racists
,
Democrat=Socialist
:
BLOG, RSS & THE NEED FOR SCHLITZ
,
Stageleft
:
Open Trackbacks & Comments Sunday
,
The World According To Carl
:
Biopsy Scheduled & I Got A Phobia! [UPDATE]
,
Kodera's Korner
:
Erie Blogs Has A Thought Cop
,
DragonLady's World
:
OTA Monday 82
, thanks to
Linkfest Haven Deluxe
.
Posts that have trackbacked to this post:
1.
Wolf Pangloss
:
Egypt May 4 Strike Fizzles, "inshallah"
.
2.
The Yankee Sailor
:
2026: An Opening For The Second Coming
?
3.
Potbelly Stove
:
Evidence of Recession
?
4.
Wolf Pangloss
:
Hillary's Good Luck Charm Finishes Second, Dies
.
6.
Gulf Coast Hurricane Tracker
:
Cyclone Nargis rips through Myanmar
.
8.
Adam's Blog
:
Interview with Congressional Candidate Greg Nemitz
.
9.
The Yankee Sailor
:
Religious Extremists, Between the Sheets
.
10.
Big Dog's Weblog
:
Stephen King Pulls a John Kerry
.
Digg
!